Kiva Recovery - New Brand Launch
Brand platform and material development for newly launched addiction treatment provider Kiva Recovery.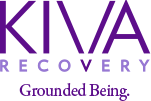 Kiva Recovery sought to introduce a new and different approach to treating addiction and needed a brand identity and strategy to match. They turned to Health Brand Group to deliver a vision-driven strategy and to launch the brand.
The brand platform came together around the tagline "Grounded Being." This platform struck a unique and subtle balance between the treatment philosophy and the promise to their patients. The idea of "Grounded Being" informed the development of brand design, business collateral, and outreach materials.
Consulting Firm: Health Brand Group
Strategist: Breean Miller
Art Directors: Brian Catral, Dawn Mellender
Copywriters: Juli Filippo, Evan Benner (creative intern)